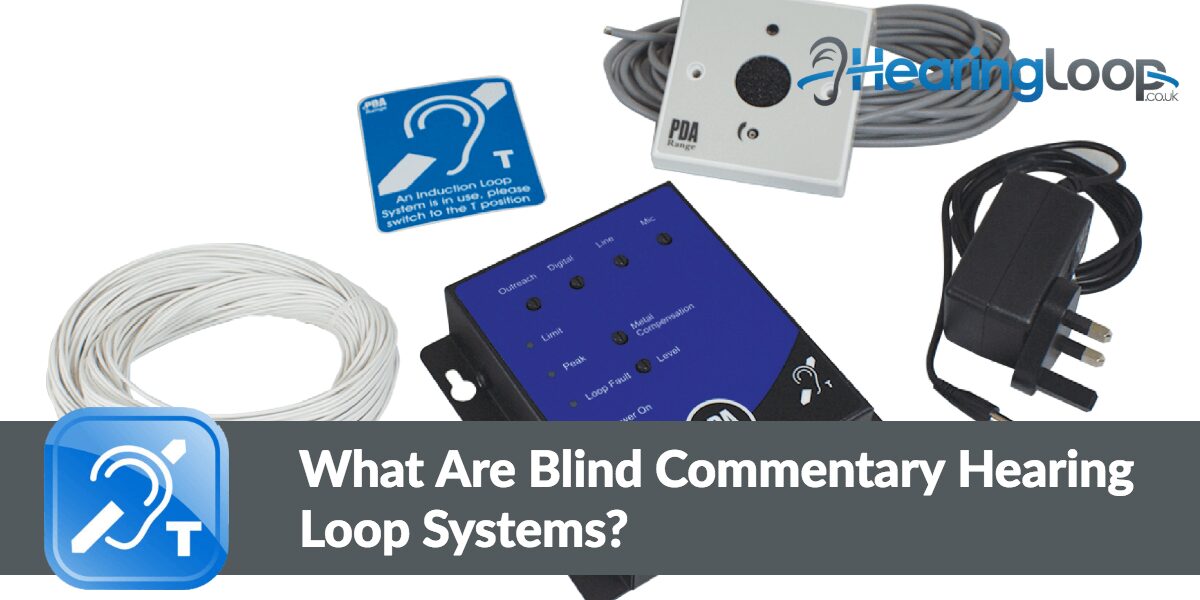 Introduction to Blind Commentary Systems
Blind commentary systems help thousands of people where some environments with extreme noise and multiple sources of sound can make it hard for those with impaired vision or hearing to fully enjoy the experience.
Worse yet, these locations (sports stadiums, for example) can be downright unpleasant places to be.
Everyone has the same right to enjoy their hobbies and public services and if this is going to a football match, then there should be provisions for those who have impaired vision or hearing – that's what a blind commentary hearing loop system does.
A blind commentary system hearing loop enables those with impaired hearing or vision to hear commentary that is specific to their needs and enhance their overall experience, whether that's enjoying a football match or attending a concert or museum.
This kind of portable hearing loop can provide benefits to the user in a raft of ways, including providing better access to facilities on-site and demonstrating that the site has a considered, forward-thinking approach for all visitors.
How Blind Commentary is Used
Unlike television and radio commentary, blind commentary is much more descriptive and detailed.
The aim is to provide a rich, insightful view that enables the listener to fully enjoy their experience, rather than a simple recounting of events.
For those with sight and hearing issues, this can be an invaluable part of the experience, bringing them closer to the action and catering to their specific needs.
This kind of system – which you might think is enormously expensive – can be put in place for around £5,000.
This figure depends on size of the space and other needs, but it's a small amount to bring a special, tailored experience to those who otherwise might struggle to see or hear exactly what is going on.
A portable Phonak Roger System can be paired with a transmitter, expanders and repeaters to provide blind commentary systems for stadium visitors, all at a relatively small initial cost.
Additionally, upscaling and maintaining the portable loop hearing system is a simple task – far easier than a fixed loop system that would require initial installation and then disruptive work to expand, not to mention costly systems checks.
Full Coverage
In the example we have given, it's important to remember that attending a football match isn't just about hearing that match in progress.
When at a sporting event, people need to get in through the turnstiles, use the facilities, maybe grab a pie or buy a shirt.
All of these areas can be covered through portable blind commentary systems, giving users the ability to go anywhere they want to go without fear of falling into a zero-coverage zone.
Via use of, say, a Roger MyLink system and a stadium-wide loop system, users can hear everything they need to know no matter where they are in the stadium.
Indeed, a stadium with this kind of setup can double up their hearing loop system and blind commentary systems into one, with extensive coverage all over the site.
This can extend to hospitality areas, ticket booths, club shops, toilets and anywhere else.
Ultimately, this means a tailored, job-specific hearing loop solution that puts fans with hearing or sight impairments right at the front of the action.
When you're running through a portable hearing loop checklist and deciding on an appropriate system, this same global view of use must be taken.
These full coverage benefits are only available if you're conscious of the entire service experience and committed to offering a service on par with that provided to non visually or hearing impaired customers.
Nuanced, Multiple Uses
No two people are the same when it comes to a visual or hearing impairment.
Some people are born with their impairment, others are not.
As such, a blind commentary system offers a range of options for users, giving them the option to experience their day out the way they want it to be.
For example, if someone has degenerative hearing loss that has onset later in life and they still retain some hearing, they may struggle to follow a match because the noise of the crowd is simply too overwhelming.
In this case, they could use a hearing aid unit to access the blind commentary feed to help them focus on events on the pitch.
Alternatively, someone who has been blind from birth and wants to enjoy the atmosphere and know what is happening on the pitch at the same time could use a hearing device, hearing the crowd and the tailored blind commentary at the same time to get the best of both worlds.

It is this flexibility – of installation, components and use – that makes blind commentary such a valuable resource to stadium visitors and the stadium itself.
For only a relatively small outlay, every area of the stadium instantly becomes accessible to those with sight and hearing impairments.
The stadium itself benefits from its proactive, issue-aware actions.
If you need help or insight into blind commentary systems or hearing loop systems in general, download our dedicated portable hearing loop guide or get in touch today.
Call 0114 2357 717 or email us at info@hearingloop.co.uk to get connected to one of our hearing loop experts.