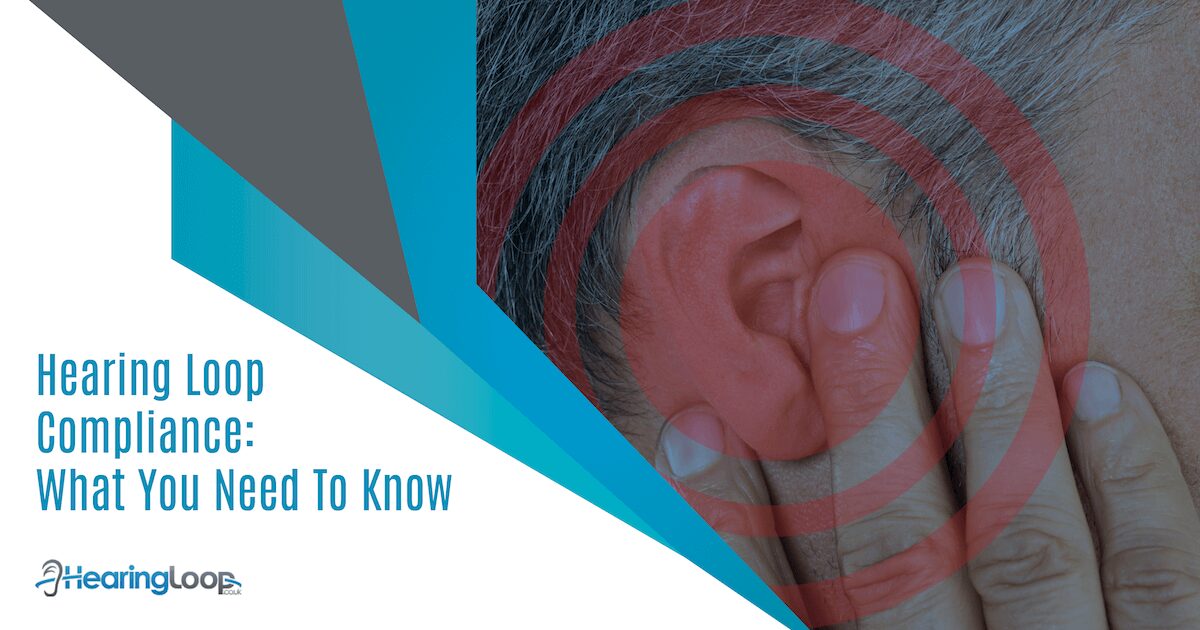 Hearing Loop Compliance: What You Need To Know
The need to adopt Hearing Loop Compliance in businesses is often overlooked due to lack of awareness.
Any business owner worth their salt knows that creating an inclusive and accessible business environment is vital.
These environments allow everyone – both staff and customers – to access all services provided, which makes good businesses sense.
But did you know that it's also a matter of law for business owners to make sure their premises are accessible for the disabled?
Are you Compliant With The Equality Act 2010?
In 2010, the UK introduced the Equality Act, in place of the Disability Discrimination Act 1995.
This act combined a number of previous laws to ensure that businesses did not discriminate against age, disability, gender, race, religion or sexual orientation.
Those who wear hearing aids would be classed as having a disability, and are therefore protected by the Equalities Act 2010.
This means that businesses and other organisations are legally required to provide hearing loop systems for their service users.
The letter of the law is as follows:
"Service providers are required to make changes, where needed, to improve service for disabled customers or potential customers".
Business owners and service providers are required to make 'reasonable adjustments' to their premises to accommodate disabled service users, including those who wear hearing aids.
Is Your Information Accessible To The Hard Of Hearing?
It stipulates that all service providers have a legal requirement to provide information in a format that is accessible for everyone.
For example,
They might offer braille versions of certain documents or forms for those who have impaired vision.
They are also required to provide 'auxiliary aids and services' for those who cannot hear.
For many, this means installing a fully functional induction loop system, which helps the hard of hearing communicate more effectively with staff and other people within that premises.
The act also requires that you use adequate signage in order to comply with the legislation.
Having an induction loop system installed is useless if none of your customers or clients is aware of its existence.
According to the act:
"…the presence of an induction loop or infrared hearing enhancement system is indicated by the standard symbol."

You may have spotted this symbol at various retail outlets and public buildings – it resembles the basic outline of an ear, with the letter 'T' next to it.
This stands for telecoil and is a reminder for those wearing the hearing aids to flip the device to the 'T' setting, which tunes them into the hearing loop.
The Consequences Of Failing To Comply
If your business fails to comply with the legal requirement to make reasonable changes (and ensure you're displaying the appropriate signage), you could be the subject of a claim for discriminatory practices.
If it's found that you were indeed discriminating against those with hearing aids by not providing certain assistive equipment, you could be liable to pay compensation to the victim, as well as being forced to make wholesale changes to prevent it from happening again.
Part M Of The Building Regulations – What Is It?
As well as having to comply with the Equality Act 2010, public buildings must also comply with Part M of the Building Regulations, published by the Department for Communities and Local Government.
This document provides guidance to ensure that public buildings comply with these regulations, with specific references to Section 4.1
For example, at venues that are used for entertainment, everyone should be able to participate in any kind of proceedings.
Whether it's a lecture or a concert, and whether they're spectators or staff, solutions such as hearing loops should be provided to ensure that there is no discrimination in terms of who can participate. This affects universities, schools, certain hotels, theatres and sports arenas or stadia.
If the building has some sort of counter (such as a reception desk or a ticket kiosk), the organisation involved with running the building must also make that particular counter accessible for those who are hard of hearing.
For these buildings, there is much more of a focus on addressing the building as a whole, rather than a certain space.
Conversations can happen all over hotels, theatres and universities, which is why the document emphasises that the criteria are only met if 'a hearing enhancement system is installed in rooms and spaces designed for meetings, lectures, classes, performances, spectator sport or films, and at service or reception counters when they are situated in noisy areas'.
The Signage And What You Need To Comply?
As with the Equality Act, signage plays an important part in complying with these regulations.
Wherever an induction loop has been installed, it's vital that there is adequate visible signage on display, to alert people to the presence of the system.
If service users within the building don't know they can use the system, it's as bad as not having the system in place at all.
Code Of Practice: BS800 – What Is It?
There is also a standard set by the British Standards Institution, known as BS800, which acts as a code practice for designing buildings fit for use by disabled people.
This standard recommends a full hearing loop system for scenarios like counters, conferences and entertainment in any form, to help promote equal access to all services.
As this is just a code of practice, there is no penalty for non-compliance.
However, having a standard such as those demonstrates that a business or building cares deeply about promoting accessibility and equal access for those who are hard of hearing.
Share In The Hard Of Hearing Market Opportunities
It's estimated that those who are hard of hearing could be worth up to £4bn in custom to UK businesses, therefore the value of making your business accessible to them (outside of the legal obligation) is clear.
Book A Consultation With The Specialists At HearingLoop.co.uk
With so many laws and regulations to comply with, it's important to choose a hearing loop supplier with deep knowledge of them all.
Here at hearingloop.co.uk, we provide the widest range of audio-frequency induction loop equipment in the UK, which can be adapted to suit the needs of any business or public building.
We can ensure the needs of your customers and staff are met, as well as helping you comply with the relevant legislation surrounding support for the hard of hearing. Browse the collection today, or contact the team to find out more by completing the form below.